I have read about how good Gaita Fores' Crepe Cake is but wasn't able to try it until yesterday.
I was scanning each and every menu of the restos along the Greenbelt 2 area when I read of it at Pepato's menu.
The Crepe Cake can only be bought thru advance orders and as a whole cake, so I was relieved that Pepato sell it by the slice at P185.
Crepe Millefoglie is of Italian origin, specifically in Naples. It was earlier called as gateau de mille-feuilles or cake of a thousand leaves. True to form, Pepato's
Crepe Millefoglie
is made of 35 layers of thin crepes with custard filling in between those layers. It is then drizzled with an orange and dark chocolate sauce and served with grapes on top of an orange sauce on the side.
I found the Millefoglie too heavy when taken as a whole, but light when eaten layer by layer. I love the taste of the torched or rather caramelized areas on the crepes, it complemented well with the custard filling. I also prefer the Millefoglie bare or with just the dark chocolate sauce and none of the orange sauce.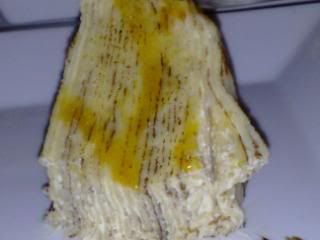 The grapes it was served with counteracted the "suya" factor that you'll definitely feel when you eat this. It is also best eaten paired with coffee or tea for easy digestion.
Btw, they serve free breads in different forms, the bacon-shaped ones are my fave from these selection.
Happy Eating!
PEPATO
Greenbelt 2, Makati