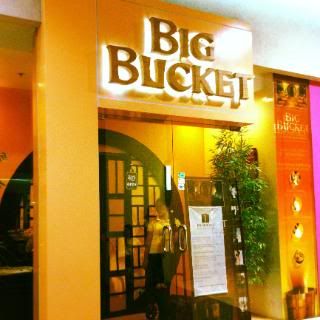 As my feet and hands always hurt, I went to
Big Bucket
after reading a good review of it on a blog.
I went there after doing half of my shopping. It was around 7PM that time. I chose the 80 minute original foot massage and reflexology that comes with an upper body massage and foot soak. I added an aromatherapy soak for an additional 50 pesos. I chose the ginger powdered soak that releases "lamig" in the body. Other choices were powdered soak for stress and the other was a gel for calluses.
After choosing my treatment and soak I was led inside. It's very dark and smelled strongly of body odor. The room was crowded with people having massages, so I didn't know if the body odor smell came from one of the clients or the place. But after putting a lot of scented oil burners randomly on the room the smell disappeared or did I just got used to it. It's also communal so there's no privacy, but since it's very dark you wouldn't see a lot. You can just hear their every snore and whisper.
As soon as I was inside, I occupied the last seat beside the air conditioner. The seat was a leather chair that reclines and can even lay flat. It was very comfortable and even has an indented spot for your head.
My feet were put first on a bucket full of warm water with one packet of the ginger soak. I didn't see how it looked it just felt sandy and later on muddy (soft). But was very relaxing. Then I was asked to transfer on the stool at the foot of the leather chair for my back and shoulder massage, with my feet still on the bucket.
The back and shoulder massage was good, I just don't like the stretching part as I felt it was too early to stretch as my body was still very stiff. Then I was back to sit at the leather recliner, feet still on the bucket, and with another packet of the ginger soak put.
My head and face were massaged this time. I like the massage on my jawline but not on my head. The therapist hands were too strong even after I told her to make it light. It felt like she's gonna crush my skull. Then came the arm and hands massage. I like her strong pressure on my hands, I just wish it can be longer on that area.
Then she removed my feet from the bucket and massaged it. I love, love, love, love, her foot massage. It has just the right pressure. And she's spot on on my every aches and trouble spots. After spending a lot
of time on that area, she moved up to my legs and thighs.Then she enveloped my feet and legs with hot towels for a while then scrolled down the hem of my pants and it was the end of the 80 minute massage.
I was asked if I wanted hot ginger drink, which I said yes, as I know it's good for the throat and for removing "lamig" from the body, which I definitely have a lot of. When she said hot it just meant ginger hot and not hot water hot.
Even with the smell, which grew on me after a while, and with her strong pressure on areas where I like it soft and light, I definitely did enjoy the massage. My feet didn't hurt at all that night. I was even able to use my reflexology sandals without feeling any pain, which according to what I read meant there's no blockage of chi in your body. I'm thinking of making this a monthly habit. I wanted to say weekly, but as I already have traditional pinoy hilot done to me every week, once or twice a month of Big Bucket is already fine.
BIG BUCKET
SM Mall of Asia