I met up with a friend last Tuesday. We're supposed to meet November 30 to watch Sarah and Gerald's movie but decided to make it a day earlier as we both know that a non-working holiday means more people in the mall and cinema.
We had an early lunch first at
Pepper Lunch
. She had the
Beef Pepper Rice
with extra meat and cheese (my recommendation), Mashed Potato and Coke, while I had my usual
Salmon Pepper Rice
with extra fish, cheese and curry, and
Hot Green Tea
.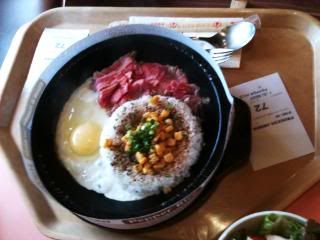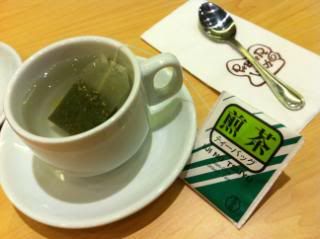 After our lunch we did a few minutes of walking and then it was dessert time. Since she haven't yet tried
Sebastian's
, I recommended we had dessert there.
I would have wanted to try the Black and White Waffle or the Ice Cream Pizza but decided otherwise as I was still a little bit full from lunch.
We both ordered Chilly Burgers. I had the
Midnight Truffle
while she had the
Fudge Truffle
. She liked it a lot. I do too. Always.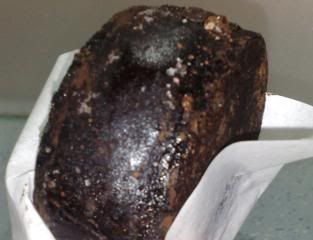 After dessert, we went out of Mall of Asia to shop and eat some more at
S&R
.
My friend knows me well when she said I know what you'll fill your cart with the most. And she was right. I filled it mostly with food.
There were a lot of new baked items there. Some from
Sugar Bowl Bakery
, like Madeleines,
Petite Brownie Bites
and Petite Palmiers. But I was won over by the brownie bites, as I have read in one of Kris Aquino's tweets that Jed Madela hand-carried her favorite brownie bites from Canada, although this brownie bites are from San Francisco and not Canada, but still a brownie bite is a brownie bite. It's also written there that it has no trans fat and no cholesterol and at only 130 calories a piece.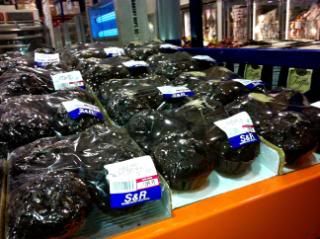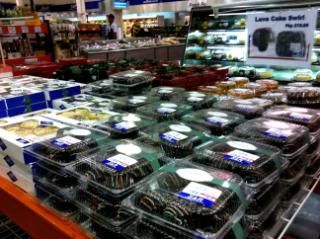 You can enjoy it right out of the container or warmed-up. I did both.
Right out of the container I found it very sweet and uninteresting, but when warmed it almost tasted like a lava/molten cake. It sure does go well with an ice cream.
I also bought another new find, the
Hazelnut Truffle Muffin
. As I love trying anything with the word truffle, I bought a pack of four even without sampling it first.
At home I first sampled the one with oozing hazelnut truffle. The hazelnut truffle tasted like a Ferrero chocolate. But the amount of truffle in the muffin wasn't enough for its size. You'll be left with a lot of just plain tasting chocolate muffin.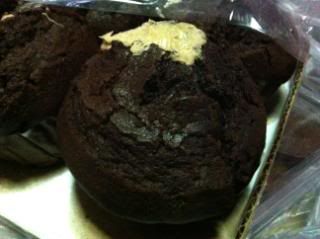 And after filling my cart with some more food and unnecessary stuff, it was now time for dinner.
My friend ordered the
Beef Baked Roll
, while I had the
Chicken Baked Roll and Fries
.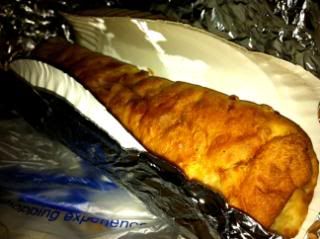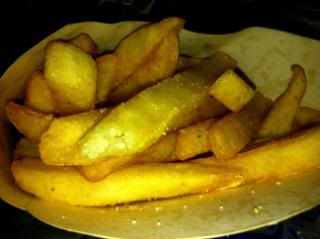 I love how cheesy the baked roll was. I just don't like the bacon inside, which had this weird taste and smell. While the fries were very thick, had this fresh potato taste and just lightly salted. I just don't like the taste of the mayo on the condiments area, and also the too tangy tartar sauce for the baked roll.
Overall, I had a great time. What a great day spent with a friend, filled with a lot of shopping and food. How I wish every day can be like this. Just eating every thing you like, doing things you love to do and spending time with the people you love. Just having fun.
P.S. Just after paying for my purchases and on my way to the dining area, I saw their display cases of baked goods on sale per piece and slice. What! I should have seen it before to sample first the pastries before buying bulk of it inside. Next time. Better late than never. They even sell cheesecakes by the slice, and also muffins per piece. And cookies, and a whole lot more.
Happy Eating!
PEPPER LUNCH
SEBASTIAN'S
SM Mall of Asia
S&R ASEANA-BACLARAN
Bradco Avenue, Aseana Busniness Park, Blvd 2000
Baclaran, Paranaque