Mrs Fields Cookie Dough Delights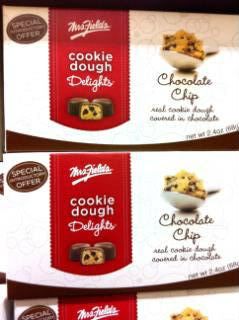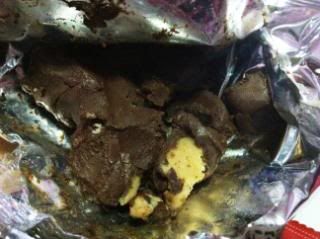 I saw these when I was buying cookies.
It's on introductory offer. When I opened the package at home it didn't look appealing anymore. The chocolate has melted and the cookie dough chocolate had stuck together. I wasn't able to see how they look per piece like on the box. But I did like the taste. I just don't like that the chocolate melted that way and even stuck to the wrapper. I just hope they'll come up with a different packaging and a different way of presenting it, like maybe adding a separator so that the cookies would not stick together, and they should also do something with their chocolate coating. That it should not melt that easily.
Chips Ahoy Chunky
When I saw the photo of cookies with chunks of milk and white chocolate chips, I said to myself, I definitely should buy one. Chunks of chocolate are my weakness.
At home I got disappointed with my first bite. It was a crispy cookie. I don't like crispy cookies. I like them soft and chewy. But I like that they definitely have chunks of chocolate on and in each cookie.
Since I was microwaving pieces of Sugar Bowl Brownie Bites, I added chips a hoy cookies too to the batch.
Surprisingly I like it warmed. It has softened the crispy cookies and also melted the chunks of chocolate. Love.
Keebler Soft Batch Chocolate Chip Cookies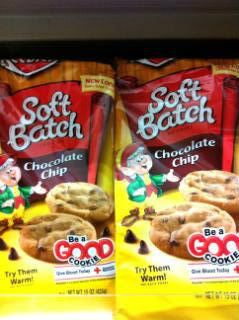 I have read that if you want soft, almost home baked cookies, that you should try Keebler. So when I saw them next to the chips ahoy, I bought a pack to try.
I have also read on the package that if you want a freshly baked cookie feel that you should microwave it on high for 10-15 seconds. I tried both, just out of the package and warmed for a few seconds.
It did gave it a freshly baked feel when warmed and the 4-5 chunks of chocolate on each cookies have melted. And just out of the box the cookies were definitely soft and with chunks of chocolates in it. I like how soft the cookies were and that it had a lot of chocolate chunks in it. What I don't like was that it was very sweet, almost like Fig Newtons.
For me the perfect cookie has the taste of chips ahoy chunky, the softness of keebler soft batch and the chocolate chunks of both.
Happy Eating!