Last Sunday the whole family went out to buy Christmas gifts. We went out early and ate lunch at the mall.
Since they haven't yet tried
The Chicken Rice Shop
, I suggested we eat there.
Most of them had the regular size (1/4)
Roast Chicken
, which comes with soup and hainanese rice. My brother had the Honey BBQ Chicken, while my niece and I both ordered the
Hainanese Chicken Rice
.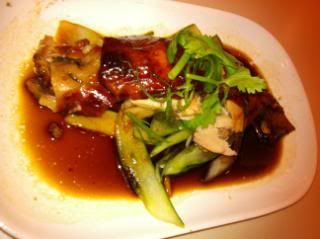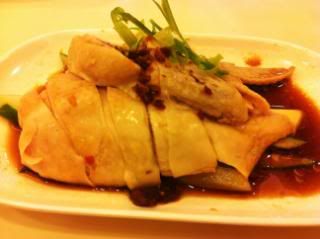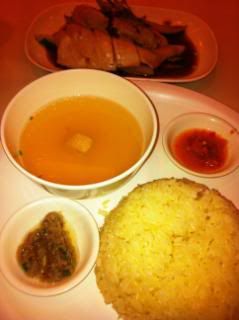 Compared to the Roast, the Hainanese has a subtle taste. Very light taste but heavy on the tummy. My brother-in-law even favored the Hainanese over the Roast.
We also ordered
Nyonya Pai Tee
, which was like a vegetable lumpia with chicken, but on a crispy pastry shell.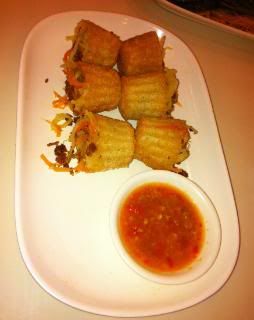 This was very tasty and we like the sweet and spicy dipping sauce.
The
Honey BBQ Chicken Noodle
was very light in taste and the noodles used were very thin.
For drinks we had the
Kuching 3 Layer Tea
, their best seller.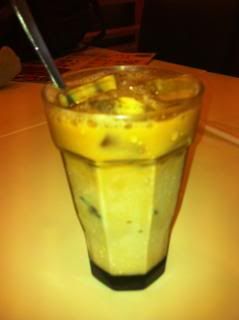 It's layer of palm sugar, tea and milk. It's like Teh Tarik but a cold version. And also
Grass Jelly
aka (also known as) black gulaman.
For dessert we ordered a lot of their Kacang best seller, the
Ais Belanda
.
It's a kachang with palm sugar, coconut milk, guyabano puree and ground peanuts.
Since we ordered a lot of this and they didn't come simultaneously, we were able to compare its taste. One taste differently from the other. The first one to arrive didn't taste that good that I tried to change the rest to chendol, but weren't able to since they were just putting finishing touches on the guyabano. But the second one and the rest were very good. The guyabano wasn't out of place with the palm sugar, coconut milk, peanuts and ice. Actually it tasted pretty good. Even my niece and brother-in-law liked it.
Happy Eating!