Went to a check-up with a friend, and did some shopping after.
We had snacks at
Cafe Breton
in Mall of Asia later in the day, and ordered the following:
Ham, Tomato and Cheese on Buckwheat Galette
- not my favorite from Cafe Breton but was still okay
Spaghetti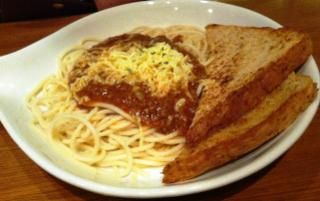 - just like McDonald's spaghetti
Crepe with Mango, Mango Sauce and Ice Cream
- too sweet for my friend. She still prefers the Mango with Nutella Crepe
Blueberry Ice Cream with Almonds
- doesn't taste like the ice cream has or was made with blueberries
Happy Eating!