After watching Bourne Legacy, which I found "bitin", I went to
Piadina
for my dinner. Since I was craving for their Carbonara, I ordered that with
Cappo di Tutti Pizza
.
I initially wanted the Quattro Formaggi, but since I already have a white sauce/creamy pasta, my pizza shouldn't be as creamy or rich.
The
Carbonara
was very oily, and lacked the salty kick from the bacon and the Parmesan cheese. It wasn't as good as my last taste of it from their Food Choices branch.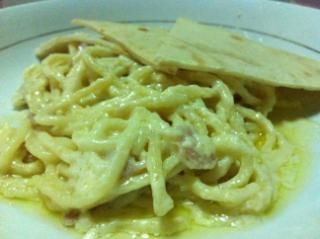 *this was just half an order, as I had it to go
The Cappo di Tutti's crust was the same as the bread that comes with their pasta. While the toppings were somewhat scarce for something that boasts of having everything on it. Something in the toppings also tasted off.
Happy Eating!