Theirs was the first restaurant I saw inside Powerplant Mall. And since I told myself to eat first before I shop, I went inside and took a look at the menu.
My first choice was the Tortang Alimango. But when I asked the server if it has shrimps in it (just to make sure, cos almost all their dishes have shrimps), he said that it has. So I went out and look at the other restaurants. But nothing took my fancy. So I told myself to just go back at
Via Mare
and order Inasal Chicken instead. But before I order that I asked again another server if the Tortang Alimango indeed has shrimps in it. He said it doesn't. It's just crab, tomatoes and egg. But just to make sure he also asked the cook. He also made sure that the vegetable roll doesn't have shrimps.
With that taken care of, I ordered that with Shooters (trio of Guinomis, Mais con Hielo and Halo-Halo) and Guinataang Halo-Halo.
I asked for the
Shooters
to be served right away, as I was very hungry.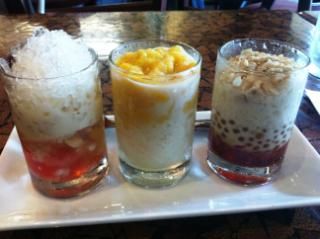 From the shooters, I liked the Halo-Halo the most. That minute glass has beans, gulaman, sweetened banana, jackfruit, ube, leche flan (which was really good, and very creamy) and pinipig.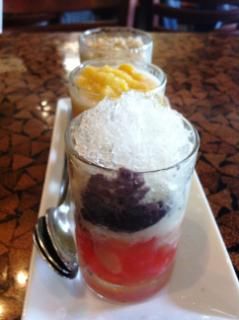 And then came the
Tortang Alimango
.
It was served with vegetable spring rolls with vinegar dip and white rice.
The Tortang Alimango was just okay. What I liked most was the spring rolls. It has a lot of vegetables (mostly bean sprouts), and good with the vinegar dip. I could eat just that with rice. I didn't even finish the alimango but I polished off the spring rolls and was still craving for more.
Last was the
Guinataang Halo-Halo
.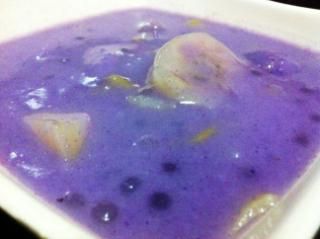 It looked appealing on the menu photos, and also in person because of its purplish color. But it doesn't taste that good. Although it has lots of bilo-bilo (which was what I look for the most in guinatan), they were not that good. They weren't chewy but more of like a soggy ball of rice. Their guinatan too was too sweet, with hard bananas and sweet potatoes.
Happy Eating!