I thought that the Bakers' Dozen was now a regular weekend event in Powerplant Mall, that I immediately went there after my check-up. Only to find the basement's aisle empty. Hungry and disappointed I just had my very late lunch at McDonald's.
I ordered the Medium Mc Chicken Sandwich Meal, with the fries changed to Twister Fries. I also bought the entire 6-piece Coca Cola Olympics Glass. And btw, they were so cute.
Later in the evening, I went back at McDonald's for dinner. I ordered the Mc Chicken and Spaghetti Meal and an order of Large Twister Fries.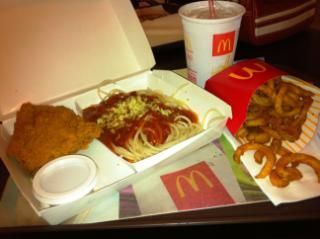 Happy Eating!