I have read on one blog how good their Cheese Sticks were, that when I was in the Greenbelt area and looking for what to bring inside the cinema, they were the first to come to mind.
I ordered
Cheese Sticks
and
Chicken and Mushroom Calzone
.
The Cheese Sticks come with garlic and pizza dipping sauces, and the Chicken and Mushroom Calzone with pizza dipping sauce.
Of the two, I like the Calzone more. Why? because it's more filling. In fact I like it a lot, that I am in Papa John's almost every other day.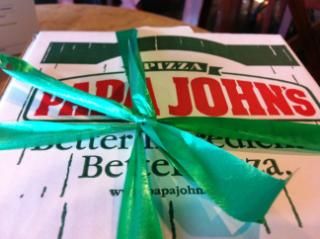 Happy Eating!