At last my prayers were answered.
I have been meaning to eat at CPK again (it's one of my fave resto) but something always comes up. One example was, just as we were entering the resto, they had to close it down due to electrical problems =p
Just when I thought it would never happen, it did, last Saturday.
We were supposed to eat at Charlie's, but since I was late for our meeting, my friends decided to just stay in the mall (Shang) for our lunch. They decided on
CPK
.
We had
The Works P465
for pizza and
Shanghai Garlic Noodles Pasta with Chicken P445
and
Fettuccine with Garlic Cream Sauce and Chicken P445
for our pasta.
The Works pizza is one of their new pizza flavor.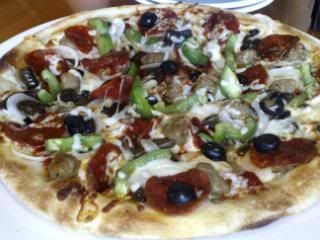 It has sweet Italian sausage, pepperoni, sauteed mushrooms, mozzarella cheese, mild onions, green peppers and black olives.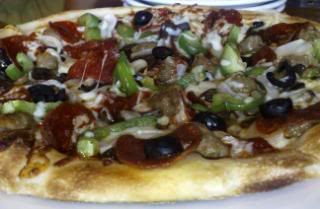 The pizza was on the sweet, soft and smokey-flavored crust CPK's known for. It's jampacked with ingredients, like everything but the kitchen sink kind of thing. But though it was good, well-seasoned and all its ingredients/toppings worked well together, my favorite's still the Original BBQ Chicken Pizza, even if it only has BBQ chicken, red onions, cilantro, smoked Gouda and mozzarella, its taste is still classically-good.
The Shanghai Garlic made use of Chinese noodles wok-stirred in a garlic-ginger sauce with snow peas, shiitake mushrooms, mild onions, red and yellow peppers, broccoli, green onions and chicken.
Basically, it was like the Charlie Chan Chicken Pasta of Yellow Cab sans the peanuts and the overflowing oil =p
The Fettuccine is your basic flat strips noodles topped with garlic Parmesan cream sauce, chicken and Italian parsley.
This is one of my favorite pasta in CPK, next to their Portobello Mushroom Ravioli in Garlic Parmesan Cream Sauce.
Everything here was delicious. From the al dente noodles and tender chicken up to the creamy and well-seasoned garlic cream sauce.
It'll leave cream marks on your lips in your every forkful, a testament to how good and creamy this pasta is. On our table, it was gone in 60 seconds.
For our dessert, it deserves a post of its own.
Happy Eating!
P.S. On the table ahead of us is one of the members of The Journey. I got shy to ask for an autograph.
CPK (California Pizza Kitchen)
Shangri-La Mall, Ortigas