I got curious with Brioche the first time I saw it in one of Ina Garten's Barefoot Contessa episodes. It looked so soft and buttery. But since I'm not as skillful in the kitchen as Ina and that no bakery in the Philippines seems to offer it on their shelves, I thought that that was it. That I just have to use my imagination and pretend that I tasted it and be envious of Ina's friends and of Jeffrey Garten.
But as luck would have it I saw some on
Grappa's Ristorante
Shelves one Saturday evening and immediately bought the whole batch to try. I then find myself the perfect spot and savoured every bite of the buttery bread.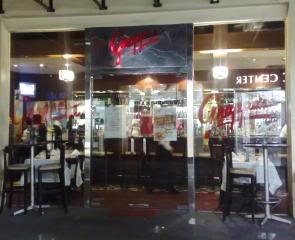 At first I thought that it was not what I imagined it to be. I thought it would smell of butter but it didn't and just by the looks of it, you would think that it's hard. But all that's a total contradiction. The
Brioche
though didn't smell of butter, tasted of it. Each strands of the buttery brioche roll were soft and creamy. It doesn't need anything on it, no jams, butter or anything. It's delicious on its own. I see it as a denser version of our ensaymada.
I ate everything in one sitting and still up for some more.
It's cheap, just P8 a piece and delicious.
Happy Eating!GRAPPA'S RISTORANTE
2nd Level, Greenbelt 3
Makati City