Yoshi Beef and Chicken Combo Bowl Set HK$35
served with 16oz soft drink or miso soup or Japanese tea. The drink can be upgraded to cold/hot drink for HK$1 or HK$4.50 more for a bottle of fruit juice or HK$6 for a nata de coco fruit punch or mango red tea. You can also order a side dish of beef for only HK$15.
Yoshi Beef is their specialty. Made from premium beef and special stock.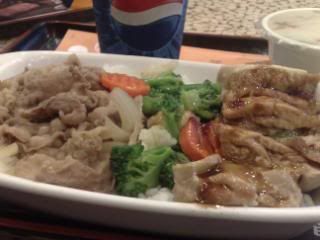 It was cut very thinly, that it almost melted in my mouth. The same goes with the chicken, while the sauce added extra flavour to an already delicious dish. It also has lots of vegetables that though overcooked were still good for our health.
I also ordered
Egg Custard Soup or Chawan Mushi
.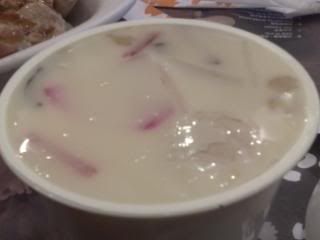 Though it has lots of ingredients, it was very thick that it didn't make it enjoyable to have as a soup. It was also slightly bland in taste. I still like Sakae Sushi's version more.
Happy Eating!YOSHINOYA
Level B1, Tem Plaza,
5 Cameron Rd.
Tsimshatsui