While in the Makati area, I decided to try another hotel bakeshop/patisserie, I went in
Intercon Manila's Cake Shop
.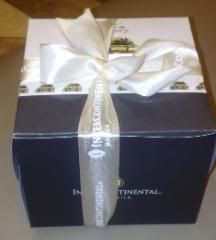 Here are what I bought:
Blueberry Cheesecake P180/slice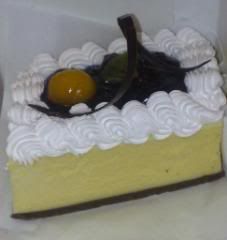 Thick layer of cheesecake topped with blueberry preserves, mango ball and kiwi, dressed with chantilly cream
This was huge. The cheesecake layer has the texture of butter, firm but will literally melt in your mouth. It was creamy, tangy, sweet, tart and dense.
It is now on my top list as the best blueberry cheesecake.
Chocolate Croissant (mini) P25/pc
Mini version of chocolate croissant/pain au chocolat.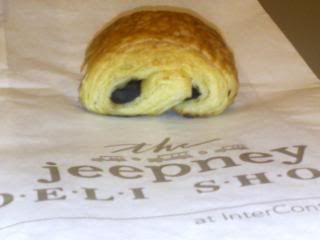 This was also good. Buttery, flaky, sweet and chocolatey.
Cinnamon Roll P50
This was not the bread type cinnamon roll like Goldilocks, but more like a croissant cinnamon roll.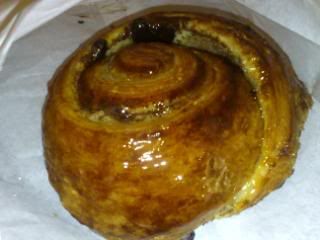 Every layer was pillowy-soft and sweet, with lots of raisins and sweet syrup, and with every bite bursting into buttery goodness. I just can't describe how good it was.
The best cinnamon roll for me, taste and size-wise.
Next time I'll try their Pistachio Opera Cake and Chocolate Cake. I just hope they're available.
Happy Eating!INTERCONTINENTAL MANILA
Makati City