I was parched and hungry after a hot afternoon of sightseeing and had just finished the last leg of the tour when I came across
Choi Heong Yuen Bakery
at the bottom of the steps of
St. Paul's Ruins
.
I was bowled over by the aroma and appearance of their
Portuguese Egg Tart MOP6
, that I immediately bought a couple to try.
Super thin and flaky puff pastry crust that breaks into buttery pieces when you bite into it, topped with a soft-set custard and then baked perfectly.
I found the dessert perfect, from the crust to the custard. It also has more custard than crust, which I love, love, love.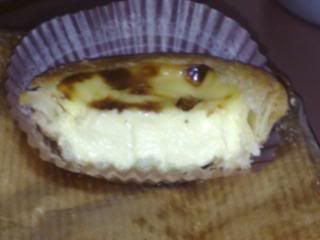 Happy Eating!CHOI HEONG YUEN BAKERY
209 Av. De Almeida Ribeiro