If there's one buffet that I would absolutely love to try, that would be
The Chocolate Bar Buffet
of The Club at Marina Bay Sands Singapore
So a few days before we land at Singapore, I made a reservation through their site. They quickly e-mailed me the process - what to wear, where to go first, what time the buffet starts, how much is the buffet, etc.
Since the buffet won't start until 8PM, my husband and I shopped around Orchard first, ate a light dinner and even watched the Kababayan Jam 2011 show of Luis Manzano, K Brosas and Vhong Navarro at Ngee Ann City for a while, before heading back at the hotel to freshen-up and change clothes for the buffet.
The attire was smart casual. For women it can be skirt or slacks with a blouse or a dress and for men it can be trousers with a dress shirt, sports jacket or blazer.
We came half an hour early, and since the hostess of The Club at the ground floor, won't be able to usher us in until a few minutes before 8PM, we decided to wait it out at the hotel casino.
My husband played the big and small while I just watched. When it was already time, we went back at the hostess stand, my husband a thousand Singapore dollar richer :-)
The hostess gave us our club access card, ushered us to the elevator that brought us up to the 57th floor.
She also gave us instructions on where to turn after coming out of the elevator and told us to present to the guard at the Sky Park area our club access card to be allowed entry.
We took some time taking pictures of the view of Singapore from the sky park, before going to The Club for the buffet.
We were immediately seated by this very friendly and attentive waiter. He told us of how the buffet works, put the napkin on our laps, and asked us for our drinks (any kind of chocolate, coffee and tea concoction is included in the buffet, an additional S$16++ for champagne, all unlimited)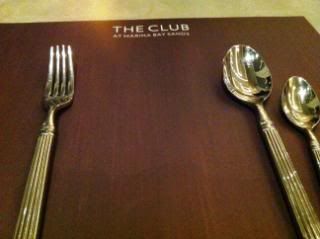 The boring me ordered as usual, hot green tea, my husband a cappuccino.
TWG TEA - my favorite tea :-)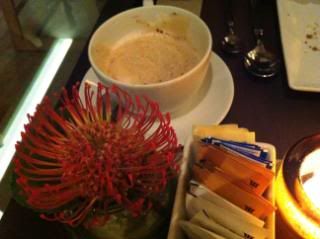 After our drinks order we stood up and scanned the whole buffet area. I took pictures first of the buffet spread before filling my plate with those that I think were good.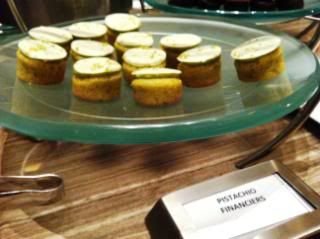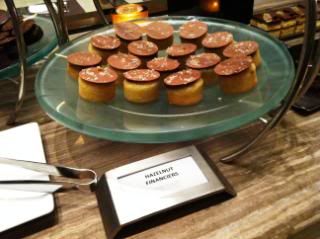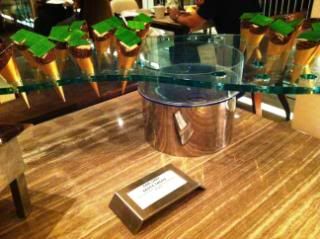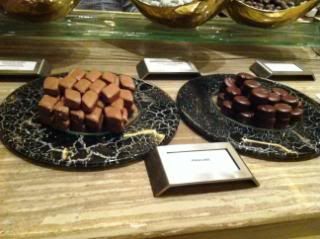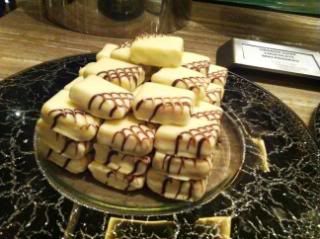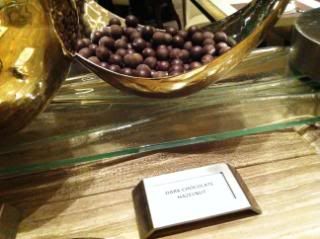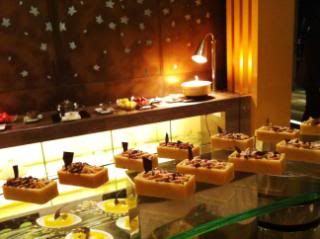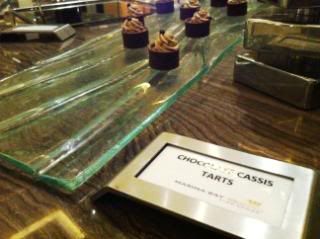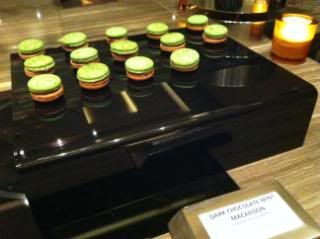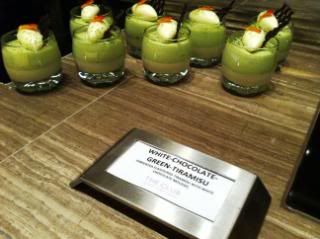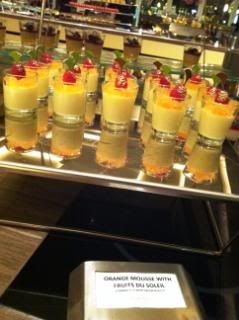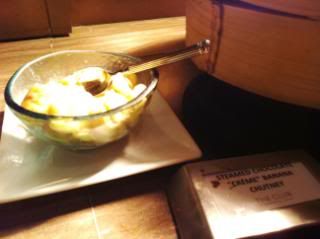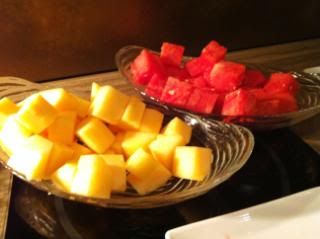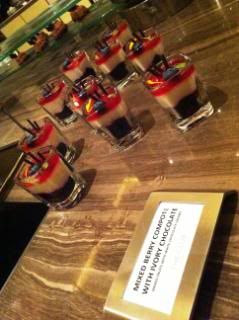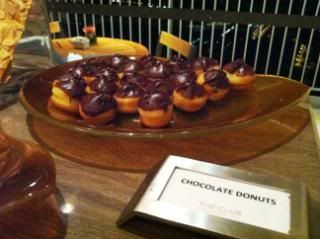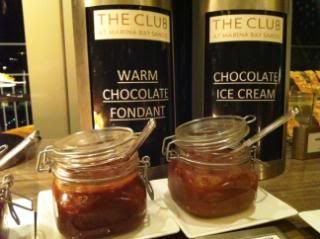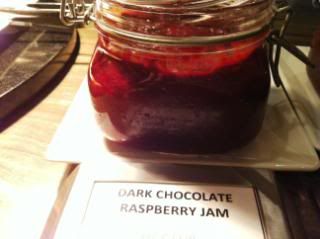 I made all the right choices. They were all good. The first round was a success. I came back for 2nd, 3rd, 4th and 5th. With a new selection every time.
MY FIRST PLATE (1st of many)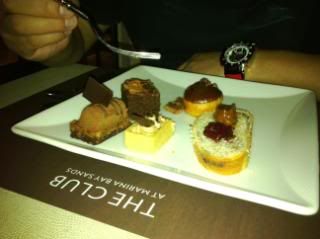 MY HUSBAND'S PLATE (1st and last)
My favorites were the
Chocolate Tart
I love the chocolate tart crust, the chocolate custard in the middle and the assortment of berries on top. I ate 3 slices of this. I wanted to have more but that would leave no room for the others.
Next is the
Hazelnut Royal
, also known as, Ferrero in a cake.
Third was the
Chocolate and Bread Butter Pudding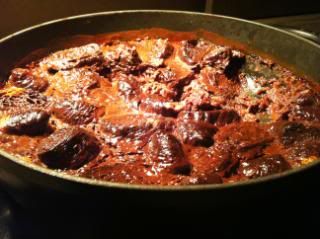 It wasn't like eating a bread pudding at all, but more like a moist chocolate cake with chocolate custard.
All 3 favorites only using the highest grade chocolates and hazelnut.
While my least favorite, one that I even regretted tasting, was the
Cheesecake Lollipop
The lollipop left a bad taste in my mouth, like eating a chilled butter. Aaarrgh! I washed it off with a couple more chocolate tart bites.
I thought that I, being a chocoholic, would be able to sample them all - the entire buffet selection. But I was wrong.
As much as I wanted to stuff myself with a lot more, my body won't accept them, that I stopped at just round 5, only sampling 3/4ths of the spread, ordered another round of hot green tea and that was it.
My husband on the other hand stopped at just round 1 and with just a single order of cappuccino. The waiter was even worried that he didn't like the buffet, that he went back every 5 minutes just to ask him if he needed or wanted anything else. He even arranged my table napkin every time I got up. Such an attentive waiter. He truly deserved that big tip :-)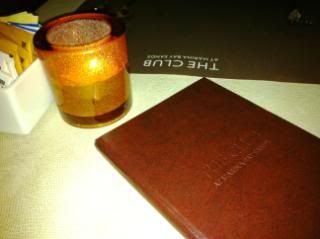 After the buffet, we went out of the restaurant, savoured more the beautifully-lit Singapore night view, the fresh, chilly air (chilly at the top, humid at the ground level), and took a couple more pictures, before going out of the sky park and down the ground floor.
I went around the bay shoppes and made a lunch reservation at Pizzeria Mozza for the next day, while my husband went back at the casino to play and win some more Singapore dollars.
We then met-up at the Helix Bridge outside of Marina Bay Sands for a couple more picture-taking and sight- seeing.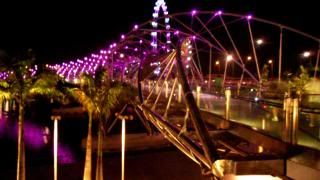 What a great and romantic first night in Singapore.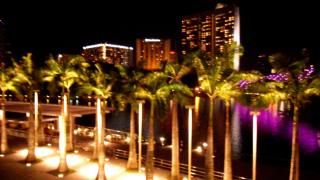 Happy Eating!
The Chocolate Bar
The Club at Marina Bay Sands,
Sands SkyPark, Level 57, Hotel Tower 2
*open daily from 8PM-12MN
*S$38++ per person, S$54++ with champagne per person
*surcharge applies on eve of public holidays and public holidays
WEBSITE: http://www.marinabaysands.com/Singapore-Restaurants/Casual-Dining/The-Chocolate-Bar/
EMAIL:
theclub.fb@marinabaysands.com