I was on my way to my sister's house when I decided to make a pit stop at
Subway
in Blue Wave.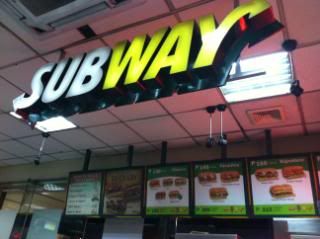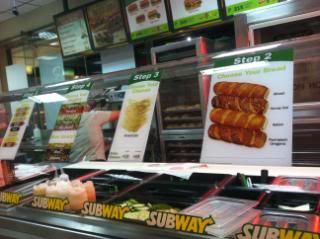 I was a frequent subway customer way back in 1997, with my favorites such as the Trio with a bottomless drink and chips and I don't know what it was called, but just a plain bun (not a sub) with ham and cheese and then toasted. I can eat that everyday then.
Fast forward to 2011. The bun that I used to have was not available and even the sub choices were limited.
But since I wanted a chicken sandwich ( as I am still lusting over the Chicken Salad Croissant of French Baker), I ordered the
Roasted Chicken Sub
.
How to order:
STEP 1 - FOOTLONG OR 6-INCH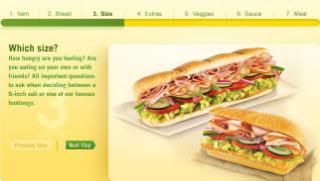 - I chose 6-inch
STEP 2 - CHOOSE YOUR BREAD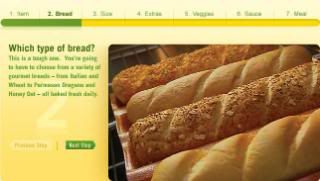 - I chose honey oat (only two choices were available, parmesan and honey oat)
STEP 3 - CHOOSE YOUR VEGGIES
- I wanted everything except the pickles (which I just read yesterday from a health book, that eating pickles was like eating a saltshaker), olives and jalapeno
STEP 4 - CHOOSE YOUR SAUCE
- I asked the staff what she thought would go best with my sub, and she said honey mustard, mayo and red wine vinegar to blend the two
STEP 5 - MAKE IT A MEAL
- Sprite for drinks, and double chocolate and chocolate chip cookies for my sides.
When the sub was handed to me and I opened the wrapper and also the sub to take a pic, I thought that she forgot to put the chicken. It was hard to see the chicken with all the veggies and the dressings. The chicken too was just half an inch thick or maybe less. There was also mayo overload on my sub and the wrapper was already soaked even before I could take a bite.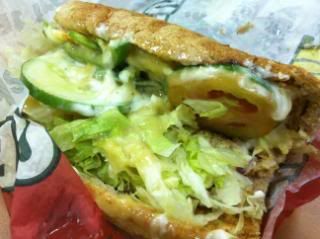 The chicken though, even if it wasn't that big, was tender and has this fresh taste. I would have liked and enjoyed the sub if not for the overload of mayo (I like mayo, I even request it for fries and on my sandwiches, but I just want enough of it and not too much, cos if I want that much mayo I'll order mayo sandwich and not roasted chicken). Mayo was all I can taste that I removed a lot of it before I was able to taste the chicken and the rest of my sub.
I like the double chocolate than the chocolate chip, but both were too sweet.
Happy Eating!
***how to order pics taken from Subway Philippines site