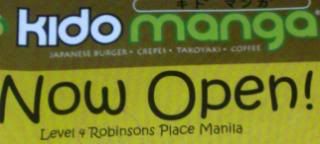 I love Japanese food more if not as much as my niece, pa-chan. So it's a no-brainer that I'll try a new Japanese snack bar as soon as it opens.
I had the
Takoyaki P75/8 pcs
,
Tako Burger P88
and
Adzuki Green Tea Premium Crepe P105
.
Their Takoyaki was soft, chewy and has that distinct taste of Octopus in it. The sauce complemented to the overall taste of the Takoyaki.
The Tako burger (or Octopus burger) also has that distinct taste of Octopus, a little bit salty too. Its texture was also a little bit weird, it's crunchy and firm but also soft and chewy.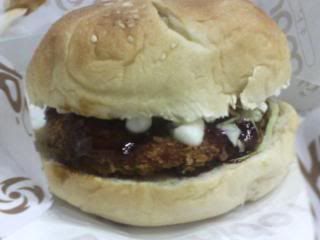 What I don't like in the burger was the soggy and minute coleslaw. It would have been better if it's crunchy (just like Sango's) and if there's a lot of it in the burger.
My dessert of Adzuki Crepe was just okay. It has adzuki beans, cornflakes, whipped cream and green tea gelato. I had this on two occasions. The first time the crepe was "makunat", the second time it was soft and creamy. I was just disappointed that I have to dig deep to get to that cold green tea gelato and that I have to pass by a thick layer of cream. I also felt that the adzuki crepe was too warm because all I have been getting was the warm adzuki beans and the cream and only later on did I get to taste the gelato.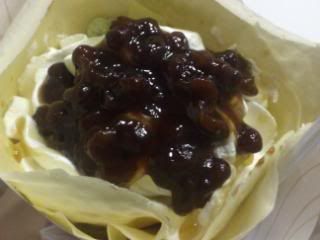 Happy Eating!KIDO MANGA
Level 4, Robinsons Place Manila