Alternating layers of red-hued chocolate cake and rice crispies with vanilla butter cream and raspberry filling, crowned with white chocolate curls.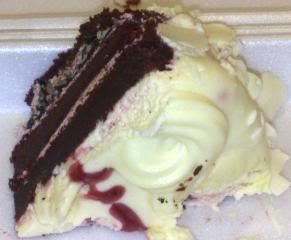 The one I had was dry and dense with a slightly bland icing. It lacked sweetness and moistness and was like a confused cake. It was hard on my part to make sense of it. I tried to compensate the dryness of the cake with the icing to no avail. The icing was whipped, so it was light and airy. The cake was clumpy too.
I'm sorry that I don't have anything good to write about the cake, except maybe for the delicious white chocolate curls.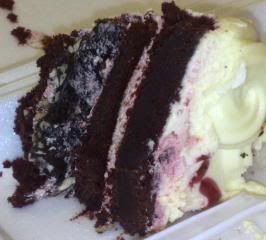 I hope this was just a random thing 'coz I really like Red Ribbon.
Happy Eating!