Before going to
Kozui
, I passed by
Kocco
and bought a slice of their
Crème Brulee Cake for P60
.
Sponge cake with cream filling and caramelized custard top.
This was good, cheap and big.
It tasted like a real crème brulee, creamy and sweet but doesn't melt in the mouth. While the cream filling tasted like a marshmallow icing.
Although it was a good cake, its sponge cake wasn't as good as that of
Alba's
. Theirs was dry and spongy.
Still, I would order it again and would love to try their best seller,
Mango Walnut Torte
and their other cakes.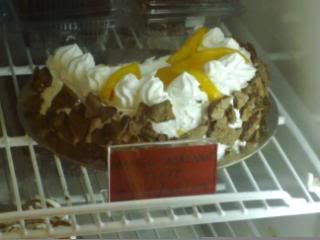 Happy Eating!KOCCO BAKERY CAFÉ
-258 Tomas Morato Cor. Sct. Fernandes,
Quezon City
Tel No: 412-3358
-74B N. Roxas Street, Banawe, Q.C.
Tel No: 412-5626