Three layers of truffle cake with truffle ball on top.
It's their best seller and it's good.
At first bite, I can compare it to Royce's Nama Bitter, with the cocoa dusting and the mousse-like chocolate melting in my mouth. But with each bite reality sets in, it wasn't nama bitter but truffle layer cake.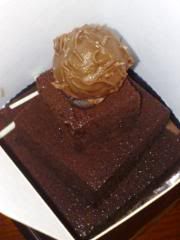 A layer is made up of 2/3 truffle and 1/3 chocolate cake, enveloped with cocoa powder.
It would have been an over-the-top cake if not for the chocolate cake in it. The chocolate cake was slightly dry and not moist and fudgy, which could have been a better complement to the truffle.
The liqueur truffle ball on top was crunchy on the outside with a satiny-smooth filling.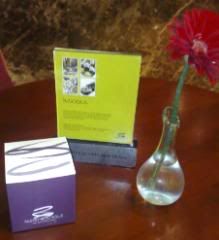 Aesthetically, I can recommend the cake as a delicious, beautiful and classy wedding give-away. If only I have known of this earlier, my give-aways would have been unforgettable.
Happy Eating!HYATT HOTEL & CASINO MANILA
Pastry Boutique
1588 Pedro Gil corner M.H. del Pilar St.,
Malate, Manila