After our (my friend and I) house tripping, we had a late dinner at
Karate Kid
in
Robinsons Place
.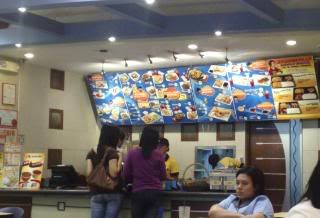 I ordered the
Japanalo Meal 1 P95
, of tonkatsu, 2 pieces of gyoza, yakisoba and rice and
Caramel Green Tea Mousse P35
for dessert.
The Tonkatsu was good, the yakisoba though oily, thin and lacked meat was also good, and the gyoza though served cold, was still good.
The Caramel Green Tea Mousse is made up of 3 layers of graham crust, green tea mousse and caramel jelly.
It was too little for its price of P35. Its taste was also too light that I can compare it to eating air. Also, the caramel jelly on top didn't taste of caramel but only
of plain gelatin.
My friend commented that they put sesame seeds on almost everything, on the tonkatsu, teriyaki and yakisoba. He also said that taste-wise, Tokyo Tokyo is much better than Karate Kid plus they have kanin-all-you-can.
Happy Eating!KARATE KID
Japanese Fast Food
Level 4, Robinsons Place,
Ermita Manila
Tel No: 536-8060