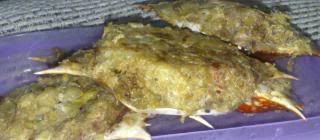 I have been craving for these for almost a year and at last my cravings were satisfied.
Unlike the common/usual crab cakes which are mostly breadcrumbs and flour, these crab cakes are their exact opposites.
Plus they don't need any more sauce or dips since they're already tasty on their own, but a spicy vinegar dip wouldn't hurt.
Happy Eating!