On our (my sister and I) way to meet our mother and auntie at the Times Square Mall, we passed by Das Gute. Since I'm not one to pass up looking, especially tasting, pastries sold at any eye-catching bakeries, we went in.
There were a lot of incredibly-looking and sounding cakes and pastries. But we narrowed our choices down to four. We bought the
Green Tea Red Bean Cream Bread HK$9
,
Green Tea Bread Mini HK$3
,
Chocolate Blueberry Brioche HK$9
and
Cream Cheese Brioche HK$9
. I should have bought a lot 'coz they were all delicious.
From their web site, I have learned that their products are without preservatives.
Green Tea Red Bean Cream Bread
, the dough is made with Japanese green tea powder, filled with sweetened red bean and cream.
It is the most popular product of their shop (I bought it without knowing of its popularity). I believed that it deserves its popularity. Good green tea taste from the dough, very soft too. The red bean was flavourful and I love the contrast of the crunch of the beans and the airiness of the cream,
HEAVEN!
The
Cream Cheese Brioche
was like eating a cheesecake. It looked like a small cake, with the brioche as the crust and the cream cheese as the filling. It's very delicious.
The
Chocolate Blueberry Brioche
has lots of blueberries scattered in the brioche and with both ends coated in chocolate.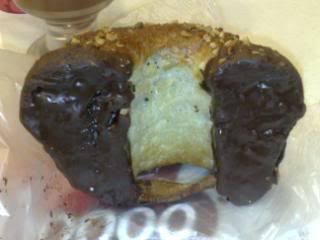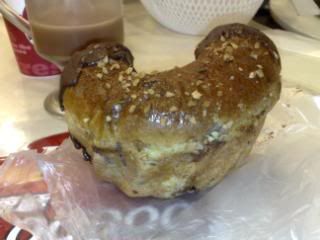 It's soft, with tartness from the blueberries and great chocolate taste from the chocolate coating.
I wish they'll open shop here in the
Philippines
, 'coz flying to
HK
every time I want to have more of their cakes and pastries can be very costly.
Happy Eating!DAS GUTE
Times Square Mall
Causeway Bay, Hong Kong