Back again for the nth time at
Jipan
in
Glorietta
, I bought some new pastries to stuff my lonely self with =(
I bought
Double Choco Roll P50
,
Sweet Potato (price depends on size)
,
Ann Pan P36
and
Black Sesame Ann Pan P40
.
The Double Choco Roll is with choco cream and white chocolate.
It has the same fluffiness as an ensaymada, filled with choco cream then coated with white chocolate. It was good, especially the white chocolate. Also, the choco cream was as light as a mousse. Just a tip though, don't put it in the ref or chill it, it'll make the roll or what's underneath the white chocolate, hard and unenjoyable.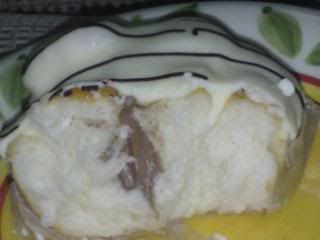 The Sweet Potato is made of mashed sweet potato with added secret ingredients topped with a thin film of custard.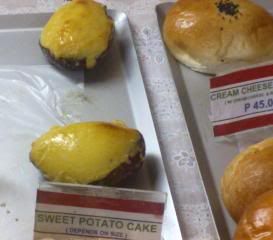 It was so unlike the mashed sweet potato with milk we make at home. This was so light and fluffy that I can't get enough of it.
The Ann Pan is with red monggo while the Black Sesame is with of course, black sesame. Of the two, the Ann Pan is tastier and moister.
Happy Eating!