Here are just some of the ice cream flavors I tried this week:
Nestle Kasuy Mantecado Espesyal Ice Cream
Mantecado ice cream laden with sweet cashew brittle.
This is too light (taste and sweetness) for me that I needed to finish the entire container just to know its taste. It also didn't have enough cashews or toffee bits to add crunch and flavour to a slightly bland ice cream. The brittle was cut minutely you won't even notice they're around.
I was disappointed since I fought for this (last piece already) in the supermarket. I should have bought other brands and flavours and not this one.
Nestle Toffee Caramel Ice Cream
Caramel ice cream sprinkled with toffee candy bits and cashew nuts.
You might think that it's too sweet, but it's not. It' s just okay tasting though. With lots of cashews but too few toffee candy.
Selecta's Pistachio and Cashew
Pistachio ice cream with roasted pistachio and cashew nuts.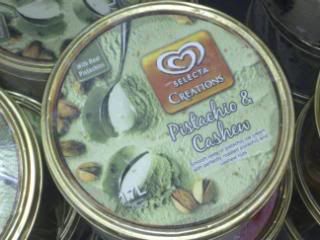 This I love.
Pistachio is my favourite ice cream flavour and I love nuts. So I definitely love this one.
They made it light but flavourful. And the nuts added crunch to an otherwise creamy creation.
I hope to try these soon :-)
Happy Eating!