Back at
Momo
last weekend, we had the
Momo Goes Pinoy P139
,
Mo Meatball Pasta P149
,
Strawberry Lemonade P109 (large)
and
Blueberry Cheesecake P125
for dessert. All are best sellers in their categories.
Momo Goes Pinoy
which has tapa, tocino, cheese omelet, fried rice and atchara is a best seller in the ALL-DAY BRUNCH. An order is enough to satisfy a hungry tummy. It has most of our favourite breakfast items in an order.
The omelet stands out in this dish, being deliciously-cheesy and soft.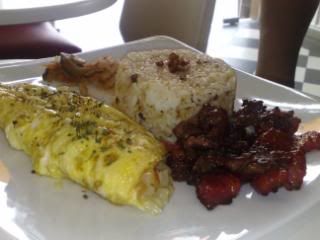 The
Mo Meatball Pasta
is the best seller in the PASTA category.
Fettuccine noodles with tomatoes and meatballs, topped with melted cheese.
The meatballs were flavourful. The sauce was made the Italian-style, with crushed and whole tomatoes. It was tangy and not the sweet Filipino-style we're used to. I like that it taste fresh and simple.
The
Strawberry Lemonade
, a best seller in the DRINKS department, is sweetened just right and made special with strawberry and peach flavours.
The
Blueberry Cheesecake
is one of their best seller DESSERTS.
An order is big, more like 2 slices of other restos cheesecake. The only downside of the cheesecake was the blueberry topping, it looked and tasted dry. I was apprehensive to order it, but since I don't want to judge the cake by its appearance, I still gave it a shot. Good thing that the cheesecake underneath was thick, rich and smooth and the walnut graham crust was also crunchy and nutty good.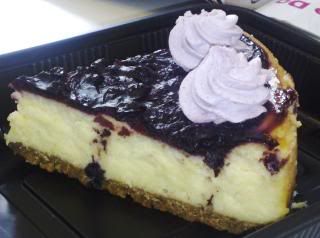 Happy Eating!