A day after New Year, we celebrated my father's birthday at
Lamesa Grill
in Mall of Asia.
We ordered the
Lamesa Grill Set
which has shrimps, mussels, liempo, pork spareribs bbq, pork lengua, squids and chicken leg quarter,
Tortang Talong
( my favourite, with ground pork inside),
Baked Tahong
,
Chicken Sisig
,
Kare-Kare
,
Bulalo
and
Sinigang na Ulo ng Salmon
.
Calamansi Shake
,
Lemonade
and
Iced Tea
for our drinks and
Palitaw with Chocnut Ice Cream
for dessert.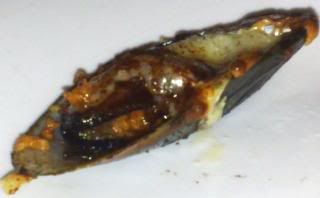 It was a jam packed crowd and most of the items in their menu were not available like their Hito, Ensaladang Mangga, Turon and Cassava. It also took almost 30 minutes for our orders to arrive, even our desserts and drinks needed to be followed-up a couple of times.
I didn't like that they didn't give us soup bowls for our bulalo and sinigang and saucers for our sauces. Our only consolation was that all our orders taste good.
The Palitaw was "makunat" that it took a lot of effort to cut and chew it. Also, I was hoping for a chocnut flavoured ice cream but was served with a vanilla ice cream with crushed chocnut. Anyways, in spite of the chewiness of the palitaw and the simplicity of the dessert, we still enjoyed eating it.
Btw, while waiting for our orders the fireworks display commenced. It was short but still amazing.
Happy Eating!LAMESA GRILL
Mall of Asia