After our dinner at Lamesa Grill, it's now time for dessert. From the not-so-many choices at Mall of Asia, we settled at
Starbucks
.
These were just some of what we ordered:
Praline Mocha P145 (tall)
is one of their holiday offerings. We had it in decaf and it tasted just like a hot chocolate.
Green Tea Frap P145 (tall)
, this is my all-time fave drink at Starbucks, with just the right strength from the matcha powder and richness and sweetness from the milk and cream. I also love having it with a shot of hazelnut syrup, YUMMY!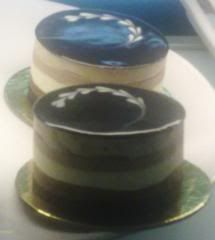 Heaven on Earth P130
, layers of mousse and chocolate ganache. I love the ganache and that each layer of this cake amounts to a great-tasting cake.
Blueberry Cheesecake P130 (solo),
I don't know why but it's way different in taste and texture from the one they sell by the slice. I think this one's much better.
Chocolate Christmas Bliss P120
, layers of brownie cake, chocolate meringue with chocolate chips, chocolate fudge, chocolate cake and chocolate mousse topped with chocolate ganache.
This was like the Chocolate Sansrival of Goldilocks because of the meringue and chocolate ganache. I like that it has chocolate mousse instead of chocolate butter cream like that of Goldilocks because it made the cake not too rich and cloying. It would have been a to-die-for cake if it's with cashew or any nut meringue instead of just chocolate meringue.
Banoffee Pie P105
, a favourite of my sister. A pie with graham cracker crust, toffee, chocolate and banana slices, topped with whipped cream and drizzled with chocolate and caramel syrup.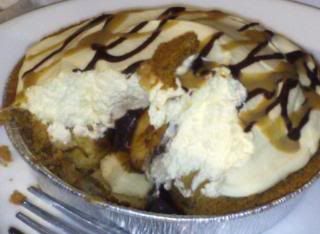 I think that this is #1 of all the Banoffee Pie and Banana Cream Pie that I have tasted. I like the crust, toffee, chocolate and that the banana slices retained its shape and texture and not overripe and mushy like that of Kitchen's Best.
Happy Eating!