One of the
20 Yummiest Commercially-Baked Cakes
is from
Goldilocks
, the
Chocolate Sansrival at P440
. It was also included in
Lucy Torres' Christmas Food List
. Of course that got me curious and at the same time anxious to try it as soon as possible.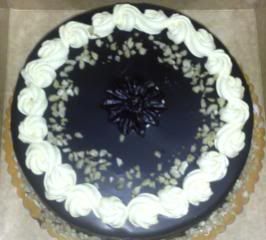 Alternating layers of cashew meringue wafers, butter cream and chocolate ganache filling, covered with chocolate ganache, whipped butter cream and toasted cashew nuts.
It is good, obviously, since I finished the entire cake all by myself. It is especially good as with any sansrival, when chilled, the ganache and the butter cream hardened already. There's only one thing that I don't like with or in the cake, there's too much butter cream that can be nauseating and cloying at the same time.
Happy Eating!