For dinner after mass at
Baclaran Church
, my husband chose to dine at
Rai Rai Ken
instead of
Sakae Sushi
. He said it's more affordable plus he's already tried it. Guessed he's not as adventurous as I am when it comes to trying out new food and restos.
We ordered the
Kani Salad P130
,
Kanton Ramen P170
,
Atsuyaki Tofu P110 (3 pieces)
and
Ebi Tempura P160 (3 pieces)
.
The
Kani Salad
has crab sticks, shredded lettuce and mangoes, topped with dressing and fish roe.
The ingredients blend well together. This is also the favourite of my husband from all our orders.
The
Kanton Ramen
has assorted seafood (squid and shrimps), mushrooms, carrots, cabbage, nori and pork strips with soy broth.
This is different from the
Seafood Hot Pot
we had just a week ago. The broth then was the sticky one and it has a fishy taste to it. This one has a clear and refreshing taste.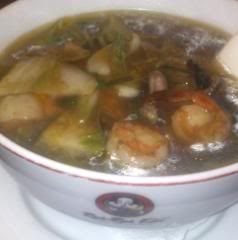 The
Atsuyaki Tofu
is also different from the
Agedashi Tofu
we had which was also good but this one's spicy, with chili bean sauce and ground pork.
Both appetizers can also be had as main dishes and paired with their Gohan (steamed white rice).
Their
Ebi Tempura
was also good but looked tiny and frail. A little presentation never hurts.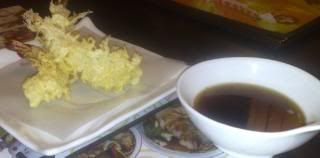 Happy Eating!