I have sampled & bought a lot of their items already and I continue to check them out every time I'm in Glorietta.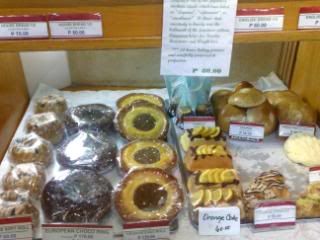 Yesterday, I bought 4 items from them. 2 are new and the rest from their old menu. I bought
Jipan's Special Choco Mille Feuille P160 (half)
,
Graham Cake Roll P120 (whole) & P60 (half), Melon Pan P36
and
Porkatsu Sandwich P80
.
Their version of the
Mille Feuille
consists of pie, chocolate cake and a special cream (tasted of chestnut). It's also one of their holiday offering together with the White Chocolate Cake. It's soft, creamy and good.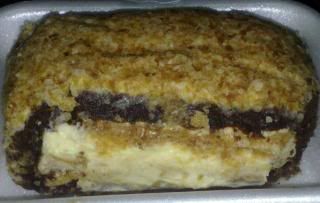 The
Graham Cake Roll
, another new item, is reminiscent of a NY-Style Cheesecake, with graham, soft cake and custard cream.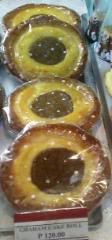 It's also delicious and at the same time not too sweet.
The
Melon Pan
(a favourite of my niece,
Pa-Chan
), reminds me of a Kopi Bun. At first bite I thought it was just like any other bread, but when the taste sunk in, that's when I said, no wonder my niece likes it. It was creamy, a little bit milky and sweet (but not too much, just right).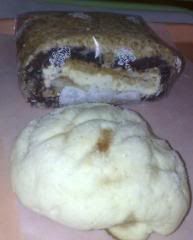 Just a little trivia. When I asked my niece, why that it doesn't taste of melon. She answered that according to
Shana
(from a Manga series and one who eats and buys melon bread by the bag), it doesn't have melon or melon juice in it. It's called Melon Bread because of the appearance of its top crust when baked, it looks just like a melon. She (shana) also said that putting even melon juice in it would be a heresy.
The
Porkatsu Sandwich
is Tonkatsu (breaded pork) in a crust less white bread, complete with cabbage and Bulldog Tonkatsu Sauce.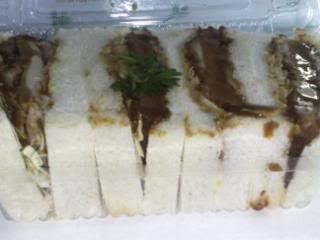 It was like the Pork Chop Bun of Macau in taste. Good, satiating and a fresh take on an otherwise common sandwich.
Happy Eating!JIPAN
2nd Level, Glorietta Mall,
Makati City