After buying my favourite
Delimondo Ranch-Style Corned Beef
at
Petra & Pilar
I grabbed a not-so quick snack at
Sango
in
Creekside
.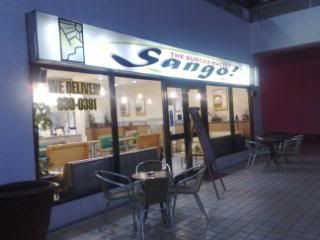 Since I was just in the mood for dessert I ordered the
Maccha Azuki Flakes P85
.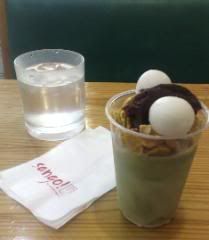 Soft-serve green tea ice cream topped with corn flakes, mochi balls and azuki beans.
Was it like
Kozui
's anmitsu? Well, kinda but it's without crushed ice and the works. Also Kozui's more appealing (appearance wise).
Sango's green tea ice cream although good and creamy has just a slight hint of green tea flavour, it's like 1/3 green tea and 2/3 vanilla. Also, its azuki beans were slightly inferior in taste compared to Kozui's. Overall, I still like it and would be more than willing to order it again. I like the contrast of texture, from the creamy green tea ice cream to the crunchy corn flakes.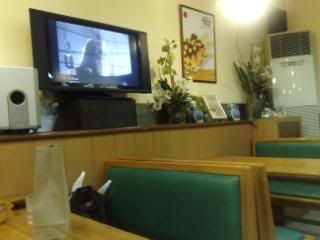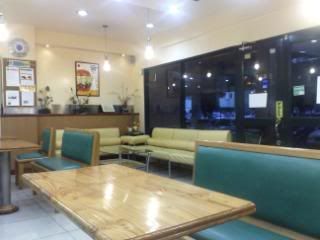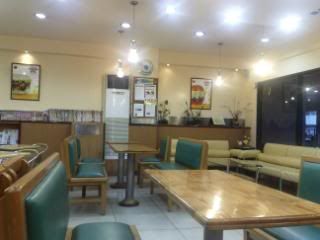 While waiting for my Maccha order I walked around the resto and came across Reggie Aspiras review of Sango's food. She liked the Chicken Curry Burger more out of all her orders. Reading her description of the burger made me hungry that I immediately went to the counter and order one
Chicken Curry Burger P116
.
Breaded chicken fillet with Japanese curry of beef and onions, Japanese mayo and shredded cabbage on top of a soft bun.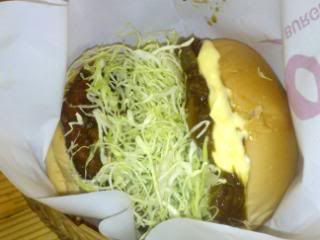 It was truly good and extremely satisfying. Each bite exploded with flavour, from the caramelized onions to the tender chicken. I was satisfied with the burger that I order another one to go (to share with my husband).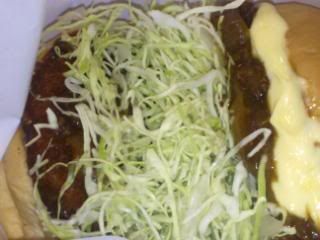 Btw, they have origamis on display that they'll be more than willing to give if you ask. I asked for a couple to give to my niece, pa-chan. She makes origami too and oftentimes gives them as gifts.
Happy Eating!