Here are just some of the food I tried in Binondo/Ongpin:
Mr. Ube's Meatball Siopao P38
-Purple-colored siopao with meatball and salted egg filling.
Though it was an okay-tasting siopao, the siopao sauce that it came with was so bad. It smelled and tasted bad that I had to throw away some parts of the siopao that I put the sauce on.
I was a little bit disappointed with the sauce, considering that it's from an authentic Chinese deli.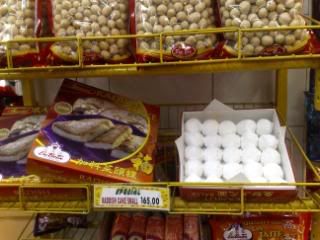 Peanut Balls P10/pc
-Mochi with peanut filling dusted with flour.
I thought at first that it was powdered sugar but when I took a bite of it the dusting was tasteless that I presumed it was flour.
It was so cute looking at it from the display shelves, that I immediately bought one to try. It reminded me of Turkish Delight, with the white powder and all.
Biting into it made me realize that the reason they didn't use powdered sugar was because it might make the peanut ball too sweet.
Anyway, I liked that it was soft, crunchy and sweet. It was just messy eating it with the white powder coating your lips.
Special Coconut Cake P11/pc
-Layers of supposedly coconut and chocolate gelatin cake.
It was so light and gelatinous that I can compare it to a plain gelatin. I didn't even tasted the coconut, sugar and chocolate.
Hopiang Macao P60/2pcs
I first saw it in an episode of Heny Sison's Show in QTV11. She said that it was good and she's not kidding.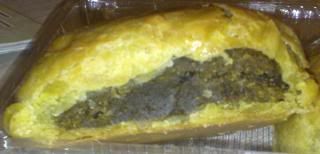 It has 2 flavors of what totally escaped me. Moving along, the hopia was good, flaky, filling and huge.
Happy Eating!HOPIA KING
628 Ongpin St. Binondo Manila
CHUAN KEE GROCERY
628 Ongpin St. Binondo Manila
WAH SUN
Torres St. Sta. Cruz Manila