Ravioli is my #1 favourite pasta. I love it the first time I had it in CPK Makati. From then on, it has been my staple order every time I dined there.
An order is very expensive, like P625, but the satisfaction and joy I have after was priceless.
Moving along, I had the opportunity of making it at home thru Santis Frozen Vegetable Ravioli. I made it first with Tomato Cream Sauce. I also used the Garlic Paste I bought from Gourdo's as I thought it tasted the same as CPK's Garlic Cream Pasta Sauce (from their original menu), but I was dead wrong. It was only later on that I found out that it had vinegar in it( Gourdo's paste) thus the weird taste.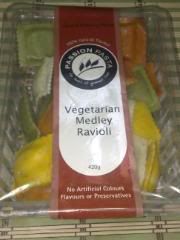 The smell and the taste of the Garlic Paste was really overpowering. It overpowered the ravioli and the entire dish. I also didn't need to put salt because it's already too salty. If you taste just the sauce it was too much, but with the ravioli, it toned it down a bit.
The Ravioli was very colourful though. It came in yellow, orange, green and beige and in flavours/fillings of goat cheese, ricotta, spinach, porcini mushrooms and bell peppers. The spinach is my favourite and also the one that stood out from the medley of ravioli fillings.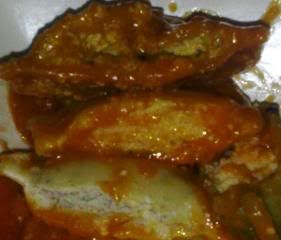 The second time I made it, was with cream sauce. And it was really good. Creamy and garlicky, a close second to CPk's Portobello Mushroom Ravioli. From now on that will be the way I'll make it.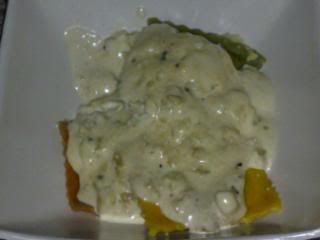 Ahh…. Taste like heaven! I saved a lot (hundreds of pesos) and enjoyed a lot too.
Happy Eating!