Before watching
When I Met You
, my friend and I had lunch at Marvin Agustin's new resto in Greenbelt 3,
Marciano's
.
We ordered
Times Square Lobster,Prawn, Fish and Chips P489
,
Manhattan Meat Pizza P308 and Freshly-Brewed Iced Tea P88
.
While waiting for our orders, we were given Crostinis with 3 dips (balsamic with olive oil, pate and marinara). Of the three I liked the balsamic with olive oil more.
Our orders arrived just a minute behind the complimentary crostinis.
The Lobster,Prawn,Fish and Chips have battered and fried lobsters, fish and prawns and potato chips for the chips. It was served with 2 dips (a red and white one).
Of course the white one was better than the red one. I also love how chewy, moist, soft and salty the lobster was. I was just sad that it only has few of it. The potato chips were just okay, fries would have been better substitutes.
The Meat Pizza has assorted meats on a cracker-like crust.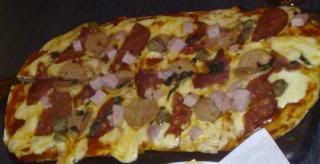 I love that it's jampacked with meats, it has meatballs, bacon, ham and pepperoni. What I don't like about it were the crust that although paper-thin, needed a lot of pull to eat, the taste, it was too salty on random areas of the pizza and the price, P308 for that size and average taste of a pizza.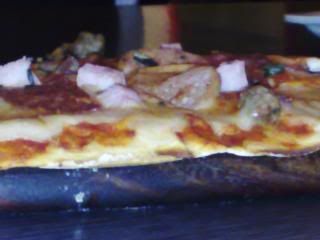 The Iced Tea tasted fresh according to my friend. It was also good value for your money. P88 for that gigantur glass of freshly-brewed iced tea.
Overall, the resto has that classy but still homey feel to it. When it comes to their food, it's mediocre and overpriced.
And since it's Valentine's Day, a long-stemmed rose from Holland Tulips and a medium pack of Hershey's Dark Chocolate Kisses were given to moviegoers of When I Met You. Talked about thoughtful (on their part) and economical (on my/our part).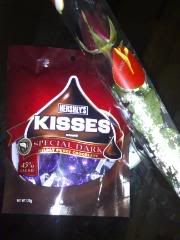 Happy Eating!MARCIANO'S
2/F Greenbelt 3,
Ayala Center, Makati