Because we liked their food from our first visit, we came back for dinner that same day.
We ordered the Chicken Steak Ramen and Seafood Platter.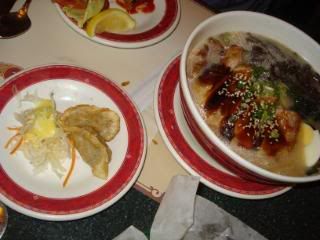 We had the
Chicken Steak Ramen in Pork Bone Soup with Japanese Dumplings for HK$80
.
I liked that the base stock was perfectly-seasoned and that the noodles were also cooked just right. I also liked the teriyaki taste of the tender chicken and the crunch of the corn.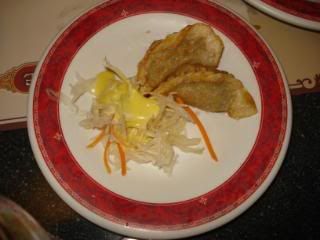 The
Main Street Sampler HK$80
has deep-fried BBQ wings, shrimp dumplings, fish fillets, spring rolls, samosas and French fries, served with honey mustard sauce.
The egg roll, samosas and shrimps all tasted the same, they were also all good. Same goes with the fries that were also perfectly-seasoned. While the honey mustard sauce complemented to the overall taste of the platter.
For dessert we had the
Coconut Red Bean Crepe with Ice Cream HK$38
and
Mickey Mouse Waffle with Black and White Ice Cream HK$42
.
The Red Bean Crepe has red beans (duh!) and whipped cream filling. Topped with a scoop of ice cream and strawberries.
The crepe was indeed creamy and soft. I didn't taste the coconut any where in my dessert though, but I still like it. It was one of the best crepes I had especially since I like red beans.
The Mickey Waffles has 2 mickey mouse-shaped waffles topped with ice cream.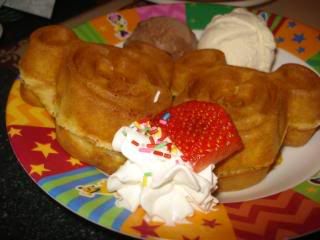 They might looked delicious but they weren't. They were just okay though. They would have been better if they have any kind of syrup on it. I still like the ice cream though.
Happy Eating!MAIN STREET CORNER CAFE
Hongkong-Disneyland