As if all the food I ate from
Ongpin
and
Binondo
weren't enough, I went to Kozui after and ordered my favorite
Taro Anmitsu P148
.
What can I say just that it gets better every time.
While at the counter I saw 3 flavors of
Mochi Truffles P15/pc
namely, chocolate, strawberry and orange liqueur for sale. I bought the chocolate mochi to try.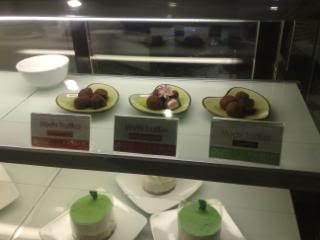 The mochi itself was not as smooth as that of
Dezato
but still good, although smaller and cheaper. Also, the packaging was good even for just a single piece.
And since I am a green tea addict, I also bought their
Powdered Green Tea P160
. I wanted to recreate some of the green tea lattes and fraps I tried at home.
It's written on the packaging that you can use it in making ice cream, mochis, noodles and drinks. But since I don't think that I can make ice cream nor mochis , I just made lattes and fraps.
Its taste was smooth and creamy, just like that of
Kozui
and
Starbucks
.
Happy Eating!KOZUI
Tomas Morato, Quezon City