After watching Monte Carlo (which wasn't that good. I was really disappointed cos I thought there would be a lot of scenic shots of Paris. The synopsis of the movie was an exaggeration), I wanted to take home some (more) sweets other than the 2 PB, 4 Dark Chocolate Cookies, 2 Real Chocolate Brownies and 1 Peach Danish of French Baker that I already bought. I also bought the
Guiltless Chocolate Delight
of CBTL (Coffee Bean and Tea Leaf).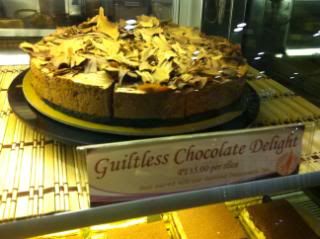 The barista told me that not only was it good but it was also sugar-free. I thought that since I was already consuming a lot of sweets, buying something like this will be good for me. Satisfying me without the guilt.
I like it. I like how it tasted, though sweeter than the usual cakes ( trademark of sugar-free desserts). I would definitely buy one again. I like how strong the chocolate taste was. But be sure to eat it chilled, cos it doesn't taste that good melted (the mousse-like layer). It reminded me of a chocolate ice cream sandwich (or rather an Oreo cookie with chocolate ice cream filling). Yummy!
Happy Eating!