I was eyeing the Chicken Salad Croissant and Green Tea in a Pot with Almond Crisp of French Baker, but then I remembered that there's a Gourmet Pao kiosk in Mall of Asia, so I decided to just have that.
I heard that they are good and healthy. So I thought that I should definitely try them.
The salesperson told me that Dancing Queen (with cheese, ham, egg and bacon) and seven Treasures (with chorizo de bilbao, pork, chicken, bacon, cheese, egg and bologna) were their bestsellers, but since I don't eat pork anymore, I just chose between the Manuquini (with chicken and egg) and Tuna Dekada (with spicy tuna, egg, capers and cheese). Then the lady told me that I should try their Pesto-Veggie. She said that it is also their bestseller. And that they only have one piece left. It was that saleable.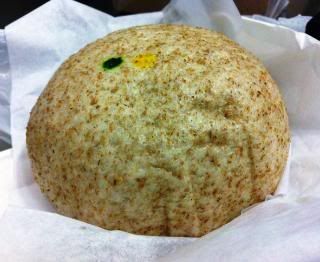 It made use of a whole wheat bun and filled with grilled red pepper, zucchini, eggplant, garlic, pesto sauce and cheese.
The bun was sweet and soft, but the filling, in spite of having cheese, has this taste that I didn't like.
Happy Eating!
GOURMET PAO
Mall of Asia