After we watched X-Men at Robinsons Place Ermita Cinema and subsisting on Taters popcorn, KFC funshots and French Baker cookies for 2 hours, it was now time for a real meal.
Since Secret Recipe was the nearest restaurant from the cinema and I miss their Pan Dory, that was where we ate dinner.
My husband wanted the Teow and Strawberry Milkshake, which unfortunately, were both not available, so as almost half of the items in their menu, so he just ordered the
Mee Goreng
and a soda while I ordered the one dish I was missing, the
Pan-Dory Fish with Lobster Sauce
.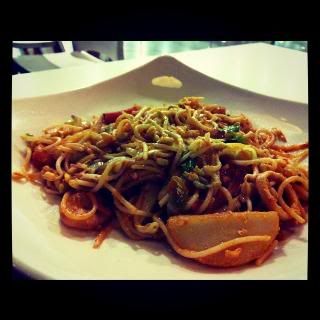 My husband was disappointed with his Mee Goreng. The serving was small and it tasted kinda off too. While my Pan Dory also looked different, even the lobster sauce. But fortunately, it tasted okay. Not as good as before but still okay. The fries were good dipped on the lobster sauce though.
Happy Eating!
SECRET RECIPE
4th Level, Robinsons Place
Ermita, Manila