After hearing mass at the Baclaran Church, my husband and I went to Greenbelt for some shopping and a movie date (Super 8).
It was so hot that afternoon that we were not only thirsty but also famished after the mass.
I so wanted to try the
Seafood "Cioppino" Linguine
I saw last week that that was what I ordered at Mr Jones.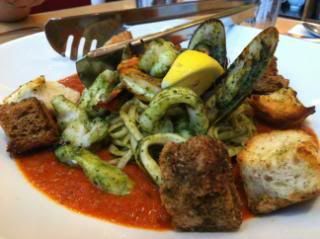 I also added 2 orders of
Homemade Biscuits and Gravy
, one to go.\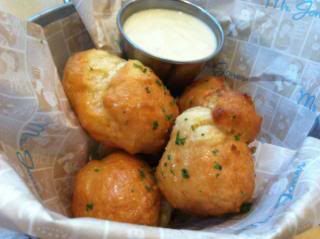 The linguine was just okay. The noodles were a little bit overcooked. And when you combined the pesto and tomato sauces in the pasta, there seemed to be a contrast in taste that I'm not that fond of. The seafood there too were mostly mussels and squids and there's too much sauce.
The biscuits with honey and gravy, I really like. I should have bought more to take home.
My husband had the
Melted "Old Bay" Crab and Dory Thermidor
, upon my recommendation.
He liked it a lot. And I even stole some of his hollandaise sauce for my linguine.
We also ordered
Funky Monkey Milkshake
.
It was sweet and rich. An instant filler. It was also the first one to arrive. We were halfway with our milkshakes when the rest of our orders arrived. And by that time we were already halfway full because of the funky monkey. I didn't taste the nutella though.
More Mr Jones post to come. I still have 2 coupons to use.
Happy Eating!