I have always wanted to try their Fish and Chips. My sister said that it was better than their Baby Back Ribs.
That intrigued me.
So when I was shopping alone in Robinsons Place and was looking for somewhere to eat, aside from Banana Leaf (I love their Roti with Curry Sauce a lot), I went here.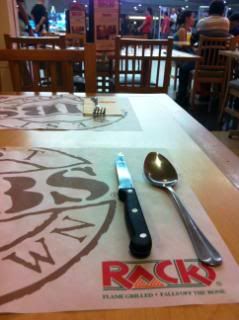 I was to order Fish and Chips right off the bat, but my eyes were caught by the "with biscuits and honey" statement with their Whole Fried Chicken order. That got me confused, as I do love biscuits and honey. I pondered over it for a while, asking the waitress a lot of questions before settling for my first choice of Fish and Chips. I'll just have the Fried Chicken next time.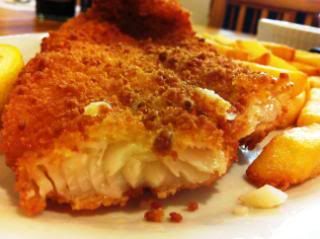 I was expecting something big, with the P310 price, but it was just as small as the personal size fish of Fish and Co. Fish and Co even have big fries. And it was hard to distinguish its taste with the crunch I was getting from the breading. It was so overpowering, I can't taste nor feel anymore the fish inside.
Happy Eating!
RACKS
Ground Level
Robinsons Place Manila