After my facial and diamond treatment at Slimmer's, it was already past dinner and I was hungry and parched.
A few blocks from Slimmer's were Pancake House, Yellow Cab, Mcdo and Starbucks.
I went inside Pancake but were told that they were already closing, Starbucks was open until midnight so I went inside to take a look of what's new to order.
Their display cab was almost empty so a Frap was the way to go.
Strawberries and Cream was my usual order ever since I was told to stay away from teas and chocolates indefinitely. But since it has been half a year without it, I thought that maybe it was already time to bring it back to my diet.
I ordered my favorite green tea frap, but now they also offer a healthier version, which is
Soy Green Tea Frap
. So I chose to have it with soy milk than non-fat milk.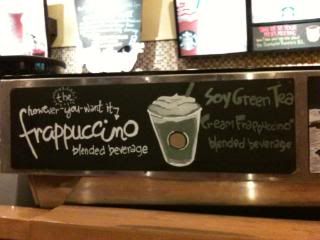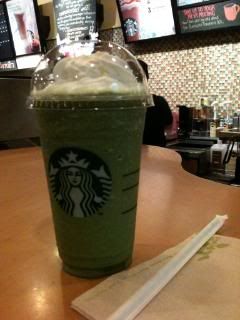 If you want to go farther, you can have it without the whipped cream.
Well, I didn't notice any difference in taste with the change in milk used. And since I am also watching my cholesterol, I Guess soy milk is the way for me than non-fat.
I also ordered one Five Cheese Turnover and a Chamomile Soy Latte.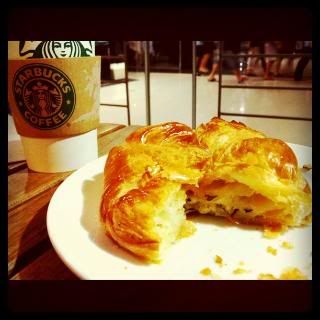 The Five Cheese was flaky, buttery, slightly sweet, slightly salty, and tart. Definitely rich in taste. I will definitely order these again ( five cheese turnover, chamomile soy latte and soy green tea frap).
Happy Eating!
Happy Eating!