After spending a lot of time inside Le Petit, I crossed-over Max Brenner and look for what's good to bring home.
As I have recently bought, tried and liked Mrs Fields Rocky Mountain, I bought Max Brenner's S'mores.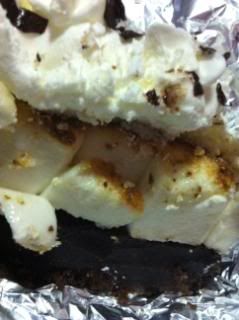 Layers of chocolate cookie crust, chocolate fudge/ganache and toasted marshmallows.
I absolutely love the toasted marshmallow layer. It has a caramel, vanilla and chocolate taste to it. But I am greatly disappointed with the cookie crust. It's not what you would expect from a chocolate bar like Max Brenner.
Come to think of it. Mrs Field's Rocky Mountain deserves more the high selling price than the S'mores of Max Brenner.
Happy Eating!
MAX BRENNER
Greenbelt 5, Makati