I first tried these when I was looking around Robinson's Pioneer for something to eat while inside Azta Urban Salon for my digiperm.
I bought popcorn from the cinema and a box of
Max's Cream Cheese Brownies
.
My appointment was at 1PM. They were busy that day (with just 3 clients at that time), and the girl at the reception told me to wait for my turn, since they only have one digiperm machine, and it was being used by another customer.
An hour passed and it wasn't until one of their senior hairstylist noticed me and asked what I will have done, that I was worked on. It seemed the receptionist forgot me. To think that I was seated right across from her, on plain view. And there were only 4 clients, including me, there.
It was a blessing that I came prepared with popcorn and brownies. They really filled me up, and playing on my phone entertained me while I was waiting.
The brownies, even though they're extra sweet (trademark of Max's), were moist and slightly fudgy. Tasted okay too. While the cream cheese layer on top were more like the top of a cheese muffin. Weren't firm too and disintegrated at the slightest touch.
Now back to my digiperm. It wasn't the same as at David's. My perm from 2009 were still intact up to the time I went at Azta, but only at the bottom, as I had it cut, since it was getting too long and drying out my ends.
Now my perm were not that distinct. More like bedhead hair than curly.
I also didn't like the layered look with side bangs that the hairstylist gave me. It just made the perm have this "all over the place" look. Made me look like a lion. I hope my hair grow out soon. So I can cut it straight again.
I miss the ringlets that I formerly had courtesy of David's Salon.
But I don't have any complaints with the one who did my digiperm. He was very attentive and nice.
BTW, they offer complimentary drinks like iced tea, coffee and milk tea (Lipton).
I had the
Milk Tea
(cold) and liked it.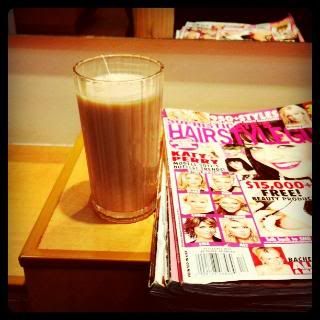 Just took a few sips of it though, since it was cold inside and I'm strapped, rather my hair were connected to the machine, and I wouldn't be able to go out if ever I needed to.
Happy Eating!