My first time here I didn't order drinks, I just had the Corn and the Chicken Chops. Both too salty. This time around I ordered just drinks.
As I am into green tea, I ordered
Uji Matcha
with mix red beans and pearl. As I was telling my sugar preference, I were told that it's not applicable with their uji matcha, that the sugar/sweetener were already incorporated in the powdered matcha, so there was no way of adjusting its sugar level.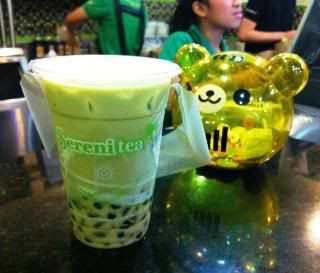 Anyways, I find it okay-tasting. Not that strong as Cha Time's Green Tea, more like a subtle version of Gong Cha's matcha.
Happy Eating!
SERENITEA
Robinsons Place, Ermita