Last Friday, my friend and I, after meeting at Megamall and doing a lot of clothes shopping at Forever 21 and book shopping at National Bookstore, went to Podium for dinner.
As I have read a lot of good reviews about
Borough
, I cajoled, rather, dragged my friend to eat there.
My friend had the
Sole Amandine
.
I told him to order the Fried Chicken with Pumpkin Waffles instead and then we'll split our orders, but he was too keen on the Amandine. Even after telling him that I don't plan to split orders with him if he ordered that. Which he later regretted after taking a bite of his order.
Actually, he did not stop complaining. He said that it was too oily, that I kept on reminding him that it's supposed to be oily as it is with brown butter sauce.
I often order fish with lemon butter sauce but this version of Borough with brown butter was indeed not good and was oilier than it should. Beyond anybody's limit. It was too salty too, even the beans (also too oily), and the jasmine rice were overcooked ( more like over fried)
His order was like eating oil and salt but with a P410 price tag. That after just two bites he stopped eating it. I tried to finish it for him but can't. I felt I might get sick if I did.

While I ordered the Chili's Chicken.
I didn't like the mango salsa, but like the buttery brioche bun, the tender and juicy chicken burger and the green dressing. But as with all of our orders that night, this too was tooooo oily, that you feel you might get sick after. The fries too were oily, over fried and bitter.
For dessert I had the Mom's Milk and Cookies
The cookies were made to order and with choices like ginger and cinnamon, chocolate chips and cranberry oatmeal.
They were soft, hot and oily when served on our table. I like the ginger and cinnamon which has this unusual but delicious taste, while the chocolate chips were my least favorite.
Their milk compared to the usual milk, was creamier, thicker and sweeter and had this distinct vanilla taste, like the ice cream
We didn't like our orders that much as they were too oily and salty that evening. Too bad as the owner was very friendly and even visited our table to ask if we enjoyed our orders. We were shy to tell him the truth that we just said that we did.
The interiors too were confusing with the antique mirrors on display on one wall and the barn-like bathroom door entrance and the light sconces on one side. Basically it was a mix n match of different design concepts.
.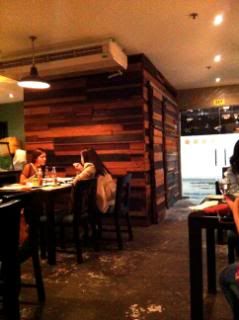 There were no coordination too with the waitresses and waiters. One told us to wait at the bar for our table to be set-up only for another to give it to another customer.
Would we go back? I don't think so.
Happy Eating!