I ordered Alcapone, Green Tease, Coco Loco, Choconutzzy, and Why Nut.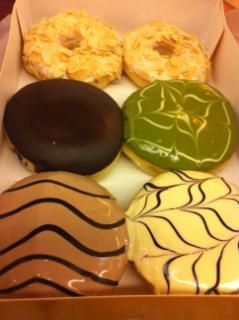 The Choconutzzy was recommended by a female staff that's assisting me. She said that it is good because it has two fillings - nut and cream filling. When I asked her if it has the same taste as the why nut I ordered, she said that it was way different.
From what I bought, my favorites are from #1,
Coco Loco
. I like the dark chocolate flavor and the almost like dark chocolate bar filling (especially when chilled).
Second, is the
Alcapone
. It has two of my favorites, nuts (almond) and white chocolate. It was also not too sweet. A rarity when it comes to donuts.
The
Why Nut
has a white chocolate topping that I like, but the nut filling was very bland.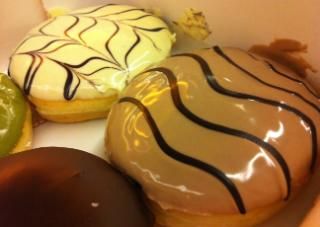 The
Choconutzzy
's filling tasted like a creamy peanut butter with chocolate. While the
Green Tease
has a strong matcha taste and my least favorite . Another surprise as I love almost anything and everything with green tea.
Happy Eating!
Update:
Just yesterday, I bought another box of 6 of donuts.
I chose 2
Coco Loco
, 1
Alcapone
, 1
Black Jack
, 1
Choco Caviar Chocolate
and 1
Donna Italiano
.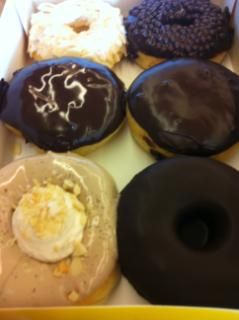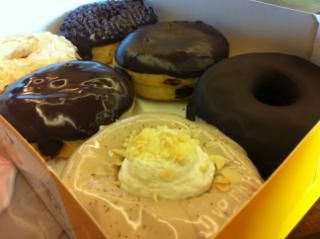 I ate all of them in just half an hour. But I have this weird way of eating them. I just ate all the toppings and fillings. I most especially love their dark chocolate topping and filling.
The cream and nuts on top of the Donna Italianno was good too, ditto with the chocolate coating of the Black Jack and the crispy chocolate bits/caviar on top of the Choco Caviar. But compared to my Coco Loco purchase in Megamall, the two Coco Loco I bought in their Mall of Asia branch doesn't have much chocolate filling. They were so little compared to the thick block of dark chocolate of those in Megamall.
My favorites now are the following, in no particular order:
- Alcapone
- Coco Loco
- Black Jack
- Choco Caviar Chocolate
Happy Eating!