Choosing between Tokyo Cafe's Adzuki Parfait and ice cream at Sebastian's both in Mall of Asia was hard.
I love them both. But that evening
Sebastian's
won.
Inside I can't decide on whether to have any of their new ice cream flavors like (Sapin-Sapin, Mangga't Suman, Frozen Taho, Latik, etc), Dive Bars, Chilly Burgers or dessert concoction like the Black and White, etc. A foreigner ahead of me had a double scoop of the Mangga't Suman. While the rest had Chilly Burgers, scoops of Chocoholics Anonymous and Dive Bars. I chose to have a Chilly Burger.
I wasn't in the mood for their Midnight Truffle and was just choosing among the Cookie Dough Duo, Cookies and Cream (white chocolate ice cream inside a dark chocolate cookie sandwich and rolled in dark chocolate cookies) and Chocolate Fudge.
The seller told me that they rarely have the Cookies and Cream on stock, so I should definitely try it.
I was tempted, but not as much as the mention of the big chunk of cookie dough inside and a taste of the ice cream of the
Cookie Dough Duo
.
I like everything. The chewy cookie, the buttery ice cream, the crushed chocolate chip cookie around it and the sweet cookie dough inside (with lots of chocolate chips!).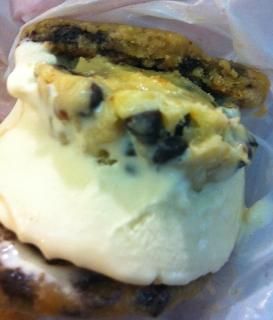 Happy Eating!